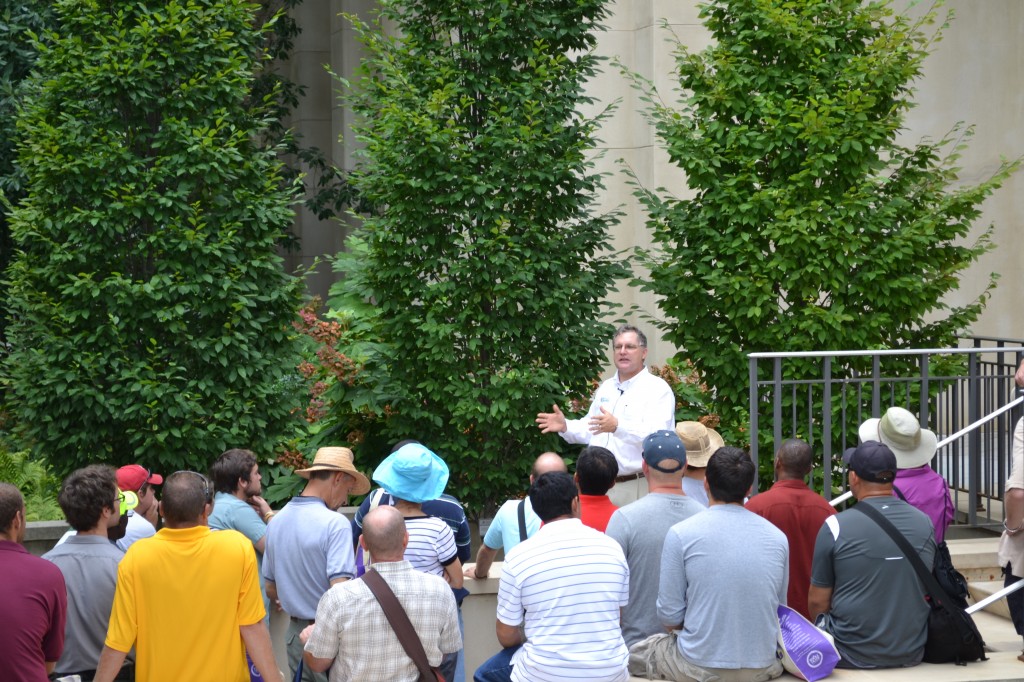 2016 GIP Field Day and Trade Show
July 20, 2017
 
Green Industry Professional Field Day and Trade Show
Hands-on, outdoor demonstrations presented at the beautiful campus of American University, Washington, DC on a July Thursday each year. This campus is an official arboretum, with a vast array of plantings for you to enjoy. Each year we feature new, unique presentations showing the latest developments in the industry.
Demonstration Topics, arranged in four tracts, range from athletic turf subjects to grounds maintenance to aerial rescue in the mature trees of the Quadrangle. See new plant introductions and participate in landscape design and sustainability discussions. One tract is presented in Spanish for the continuing education of the diversified workforce. Please consult the  brochure for the complete listing and details.
*** Garage parking this year due to construction on previous lot. Parking is limited! Carpooling or using Metro is highly recommended.  Park (for free) in the Katzen Arts Center Garage across Mass. Ave. from the main entrance to American University.)  Further details for parking provided to registrants via email.
To download the 2017 Brochure with Registration form, please follow this link:Â Field Day 2017 Program
To register online, go here: Â  http://events.constantcontact.com/register/event?llr=5rqw8yjab&oeidk=a07ee9s2h5711e6e68e
Registration is now open.
Many of the day's topics will qualify for continuing education credits (CEUs) for industry certifications. Complete information is available by contacting us or in the Registration brochure. We maintain a high level of educational integrity in all of our programming.
Our day begins with Coffee and Donuts in the Registration area and includes a BBQ Lunch break. Relax during lunch to the sounds of the band, Durham Station. Presentations take place near the 'Quad' and walking tours begin there.
The Trade Show occupies the open center of the 'Quad', showcasing local equipment dealers, nurseries, hardscape manufacturers and a variety of related products. Plan to enjoy all of the aspects of this event. (Interested vendors, click here)
Permanent Sponsors:
The Northern Virginia Nursery and Landscape Association
The Professional Grounds Management Society, – DC Branch
Virginia Cooperative Extension
In cooperation with:
The Mid-Atlantic Chapter, ISA